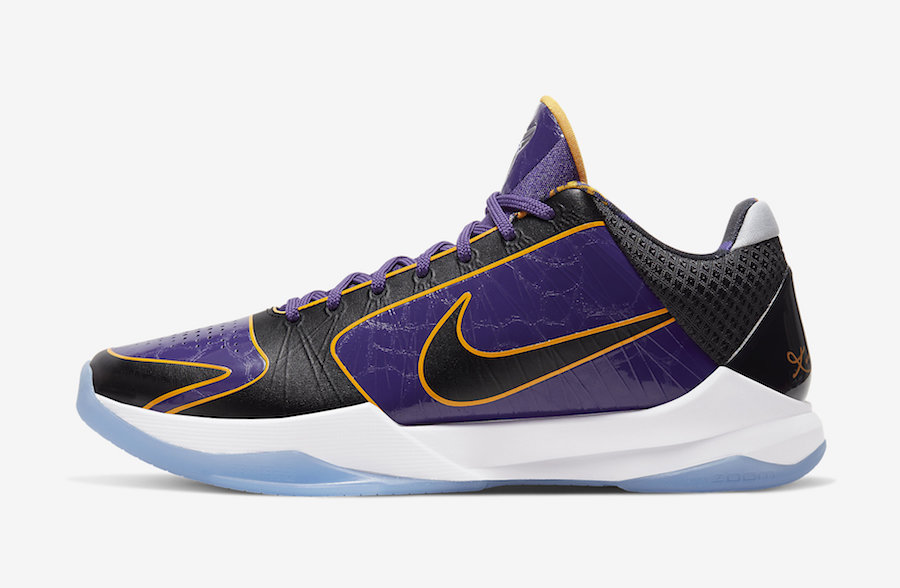 08/24/20:
Just like the Big Stage colorway, no question if these will do good or not. They will do good and in all sizes. Not much to say other than that, people have been waiting for these for months. Rest in Peace Kobe and Gigi
April 4 2020:
The latest release of a Nike Kobe 5 pays homage to the only team the Kobe played for the Los Angeles Lakers. The colorway is of course the Laker trademark purple and gold. The midsole is all white, both heels have Kobe's signature in gold and the insoles have a detailed Lakers and LA type illustration.
Upon Kobe's passing, most of his sneakers went way up in value. The initial resale of these might have some potential being that is the first or second release after his passing. It's also a Laker themed Kobe so Laker's fans will be eager to get a pair. There is very little pre-release sales to go off of just a day before the planned release. There is only one sale for $399. The resell price will go down by quite a bit but they are worth a look and a possible cop.
Buy The Nike Kobe 5 Protro Lakers Today